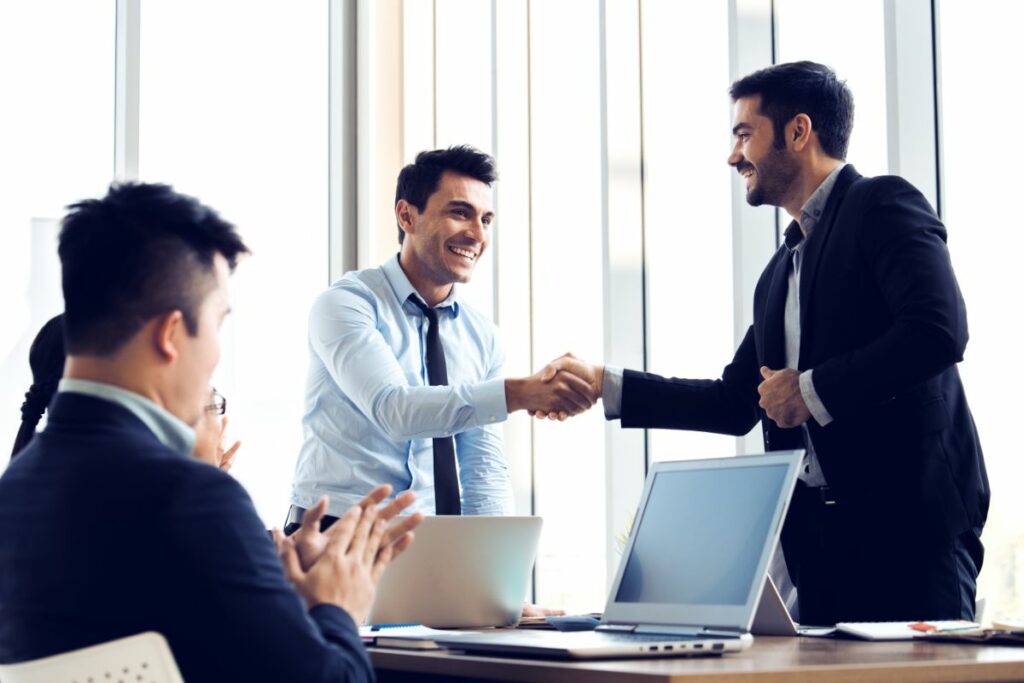 Recent research conducted by Intelligence Group provides valuable insights into the top five channels that job seekers in Germany rely on when searching for new opportunities. For recruiters, a comprehensive understanding of these channels offers a strategic advantage in their quest to find the perfect candidates.  
From traditional job boards to innovative networking techniques, each channel boasts its own unique strengths and intricacies. Immersing in the nuances of these channels and combining more recruitment data from Giant would allow employers to refine their talent acquisition strategies to access top talents.  
1. Job Boards  
Job boards continue to be the most popular and effective means of job seeking in Germany. Nearly half (48.7%) of the German workforce currently rely on job boards to discover new opportunities. In the previous year, 49.8% agreed it was their favourite job board; now, 48.7%, show its consistency as an essential channel.
Top boards such as Indeed, StepStone, and Monster are go-to destinations for these job seekers
Top boards such as Indeed, StepStone, and Monster are go-to destinations for these job seekers, providing a wide range of job listings across various industries and career levels. In addition to offering talents an easy application process, these job boards aid employer branding. They provide company pages to showcase more details about a company and show anonymous reviews from previous and current employees.  
2.

Search Engines  
Coming as the second most favourite channel for job seeking in Germany is search engines. They also play a crucial role in the job search process for 37.8% of Germans. Job seekers often enter specific keywords related to their desired roles, such as job titles, locations, or companies, and let search engines do the work of aggregating job listings from various sources. This approach allows job seekers to cast a wider net and discover opportunities not found on traditional job boards.
Recruiters can focus on search engine optimization (SEO) to improve online visibility and rank for job queries.
A well-executed SEO strategy can ensure that company's job postings and career pages appear prominently in search results when candidates conduct relevant queries. This increased visibility can significantly enhance a company's ability to attract top-tier talent actively searching for opportunities through search engines.  
3. Company Websites  
Based on the same research 31.4% also see company websites as a viable channel to search for a job. Company websites offer a unique advantage by providing a direct insight into a company's culture, values, and available positions. Such direct approach appeals to candidates seeking a specific organizational fit.  
One of the primary advantages of exploring company websites during the job search process is the opportunity to gain unfiltered insights into an organization's culture and values. While job boards and other third-party platforms provide essential information about job roles and requirements, they often fail to fully understand what it's like to work within a specific company. In contrast, company websites serve as digital windows into the heart of an organization, showcasing its mission, values, workplace culture, and the people in the company.   
4.

Internal Jobs  
Internal job postings within a company are another valuable channel for job seekers in Germany. These opportunities are typically advertised to existing employees first, promoting career growth within the organization. Based on the research, 30.4% asserted to seek opportunities through internal job postings.
For job seekers looking to advance their careers without changing employers, they keep an eye on internal job postings.
It underscores the need for recruiters to pay attention to upskilling their employees and searching to fill positions from within the company, even before searching outside the company.   
 5.

Contact and Networking Channels  
Networking continues to hold its ground as the primary means of finding job opportunities for many active candidates in Germany. In the highly competitive German job market, where personal connections and professional relationships hold significant sway, it's no surprise that 27.2% of job seekers place their faith in networking as a critical channel for discovering new career prospects.   
Building professional relationships and networking remain crucial in the German job market. Organizing industry-specific events, encouraging talents to join professional organizations, and leveraging connections are all effective ways to tap into this channel as a recruiter.  
More often than not, job seekers use a combination of these top channels in their search instead of using only one. HR and TA leaders can strategically place their brands and tailor their marketing in these channels to get top results. With the Giant platform you can also discover the essential information to facilitate talent acquisition for specific job roles.
Read More: