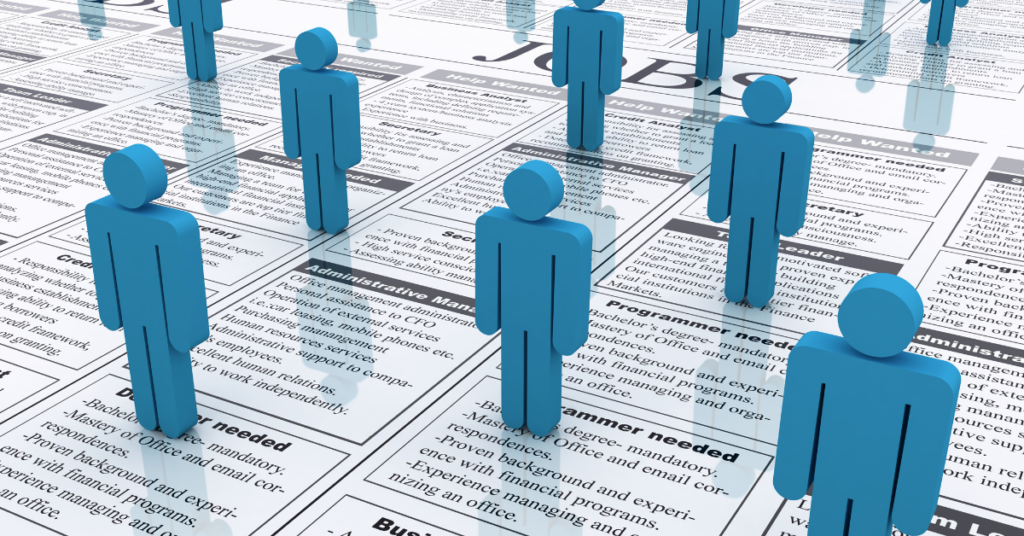 In 2023, Indeed remains the top choice for job seekers in the UK, with 70% of job seekers favouring this platform for their job searches. Notably, LinkedIn, with 18% usage from active job seekers, surpassed Totaljobs (14%) and secured second place in the ranking of 2023. This trend echoes the increasing dominance of Indeed and LinkedIn across Europe. This is based on a study by the Intelligence Group with a total of 15,725 respondents, which is representative of the UK labour market in 2022-2023.
Consistently, the patterns in the channels used by job seekers in the UK remain unchanged from previous years. The three primary channels for jobseekers are job boards, search engines (Google), and company websites. Job boards are utilized by 43% of active British job seekers, with Indeed maintaining its leading position in this category.
Indeed is without a doubt the primary platform for job applicants, securing an astounding 70% of their preferences. It has successfully positioned itself as the foremost choice for job seekers. While LinkedIn remains a reputable platform, it is comparatively less prominent than Indeed, and primarily caters to white-collar job postings. Fundamentally, Indeed maintains an unchallenging dominance over the labour market, thereby establishing the standard for modern-day job inquiries.
"Indeed is more and more ruling the UK job market when it's about preference with job seekers. The way the UK market is evolving is a signal for job boards in the rest of Europe where Indeed is gaining market share fast", according to Geert-Jan Waasdorp, CEO Intelligence Group.
"Indeed might not always be preferred by employers, but in this market the candidate rules."
The top-10 job boards in the UK
 To establish a ranking, Intelligence Group posed a simple query: 'Which job board and/or social media platform would you use to search for a job?  These were the results:
| | | | | |
| --- | --- | --- | --- | --- |
| Preferred Job board | 2023 % mentioned | 2023 Rank | 2022 % | 2022 Rank |
| uk.indeed.com | 70 | 1 | 70 | 1 |
| uk.linkedin.com | 18 | 2 | 15 | 3 |
| totaljobs.co.uk | 14 | 3 | 16 | 2 |
| monster.co.uk | 9 | 4 | 9 | 5 |
| reed.co.uk | 8 | 5 | 10 | 4 |
| cv-library.co.uk | 7 | 6 | 5 | 6 |
| glassdoor.co.uk | 4 | 7 | 3 | 7 |
| fish4.co.uk | 2 | 8 | 1 | 12 |
| s1jobs.com | 1 | 9 | 2 | 8 |
| jobsite.co.uk | 1 | 10 | 1 | 12 |
In the hierarchy of job boards, Monster has also notably surpassed Reed and now secures the fourth position in popularity. This is remarkable because is Monster is already for many years losing ground with employers, but still is a strong brand that is mentioned as preferred with job seekers.
Reed drops to fifth place with 8%, while CV-library (7%) and Glassdoor (4%) maintain their positions at sixth and seventh, continuing to gain in popularity based on their percentages. Fish4Jobs (2%), S1jobs (1%), Jobsite (1%) round off the top 10 job board rankings.
Women use LinkedIn less
 As LinkedIn continues expanding in the United Kingdom, it is worth noting that men prefer the platform over women. LinkedIn is currently preferred by 23% of male active job seekers in the UK, while women account for 12% of the platform's users. Women, on the other hand, prefer Indeed (77%) over men (63%).
This imbalance might be attributed to recruiter behaviours. LinkedIn's data reveal that recruiters tend to interact more with male profiles while showing less interest in female profiles, potentially discouraging women from active engagement on the platform.
Even more crucial, women have been boycotting the platform for both networking and job hunting due to the inappropriate Tinder-like messages they receive regularly. As a result, an increasing number of women are transitioning away from LinkedIn and gravitating towards Indeed for their job search.
Despite LinkedIn's efforts to tackle these issues, such as encouraging users to report incidents and collaborating with verification platforms like CLEAR, the persistence of such challenges has pushed many women away from the platform.
About the Intelligence Group
Intelligence Group is an international data and technology company specializing in the collection and analysis of European labour market and hiring data. Intelligence Group strives to bridge the gap between supply and demand in the labour market. With our information, we ensure that HR managers, recruiters, recruiting, and career and communication experts have the right data at their disposal to solve all types of labour market issues.
Further information can be found at: https://intelligence-group.nl/
Contact:
+31 88 730 2800
info@intelligence-group.nl