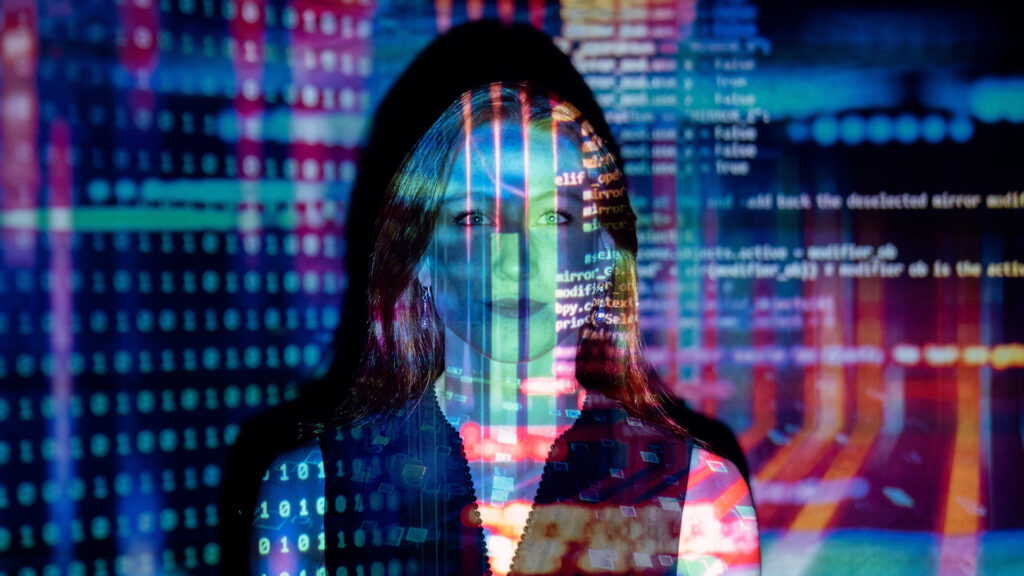 Digital transformation has to be one of the most-used words of the past ten to twenty years — but there's a reason behind it, a report from the European Commission states. In the summer of 2022, the European Commission released the new results of the 2022 Digital Economy and Society Index (DESI), which tracks Europe's digital performance and the progress made by the EU countries every year — ranking countries based on four different elements: Human Capital, Connectivity, Integration of Digital Technology and, finally, Digital Public Services. 
The 26% gap
Perhaps unsurprisingly, the index showcases big differences among EU member states. The data of the 2022 DESI report show that only 54% of Europeans aged between 16 -74 have at least basic digital skills. Meanwhile, the European Commission's Digital Decade target is set at 'at least 80% of citizens by 2030'. That means that Europe will have to bridge a continent-wide 26% gap within the next seven years.
Finland and the Netherlands lead the way
Delving into 'at least basic digital skills', Finland, the Netherlands are the clear leaders, scoring approximately 79%. Meanwhile, on the other end of the spectrum, Bulgaria and Romania's score lie around 31% and 28% — meaning they'd to more than double their current digital skills in seven years to even come close to the desired 80% by 2030.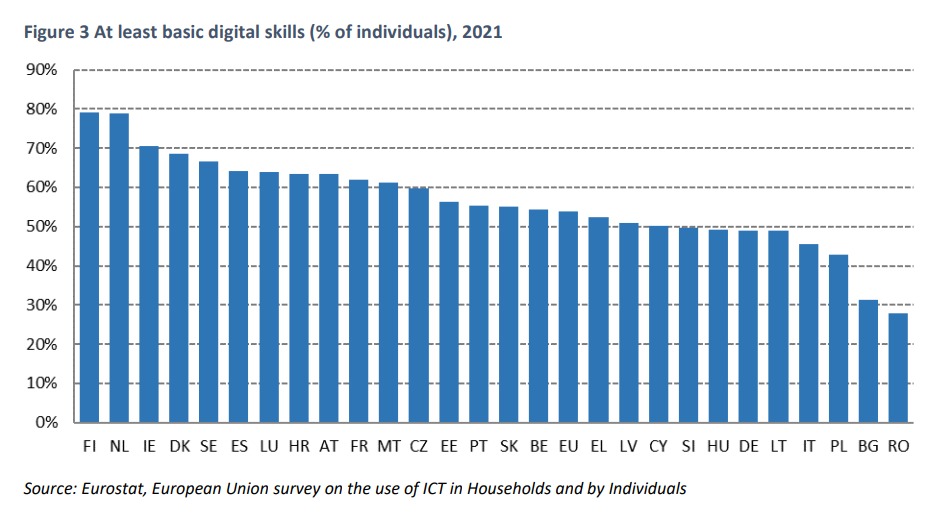 "Even there the adoption of cutting-edge digital technologies is still around 30%, which is well behind the objective of 75%."
While the report notes Finland, Denmark, the Netherlands and Sweden as frontrunners — even those countries have much to do if they want to meet another objective based on Artificial Intelligence (AI) and Big Data. "Even there the adoption of cutting-edge digital technologies, such as AI and Big Data, is still around 30%, which is well behind the objective of 75% set for the 2030 Digital Decade. This is also partly due to the significant skill shortages, which impede overall advancement and result in digital exclusion."
'It requires a decisive step'
In other words, there's work to be done all around the continent. "A true digital transformation requires a decisive step forward in the acquisition of digital skills by citizens", the report states. "People without the necessary digital skills run the risk of falling behind as digital technologies become a necessary component of daily life and participation in society."
"The EU continue to improve its level of digitalisation, and the Member States that began at lower levels are gradually catching up by expanding more quickly."
But it's not all bad news. The report notes that the majority of member states are actually making process in their digital transformation. "The EU continue to improve its level of digitalisation, and the Member States that began at lower levels are gradually catching up by expanding more quickly. In particular, Italy, Poland, and Greece significantly raised their DESI ratings over the previous five years, by making consistent investments and sharpening their political focus on digital technology, which were also supported by European funding."