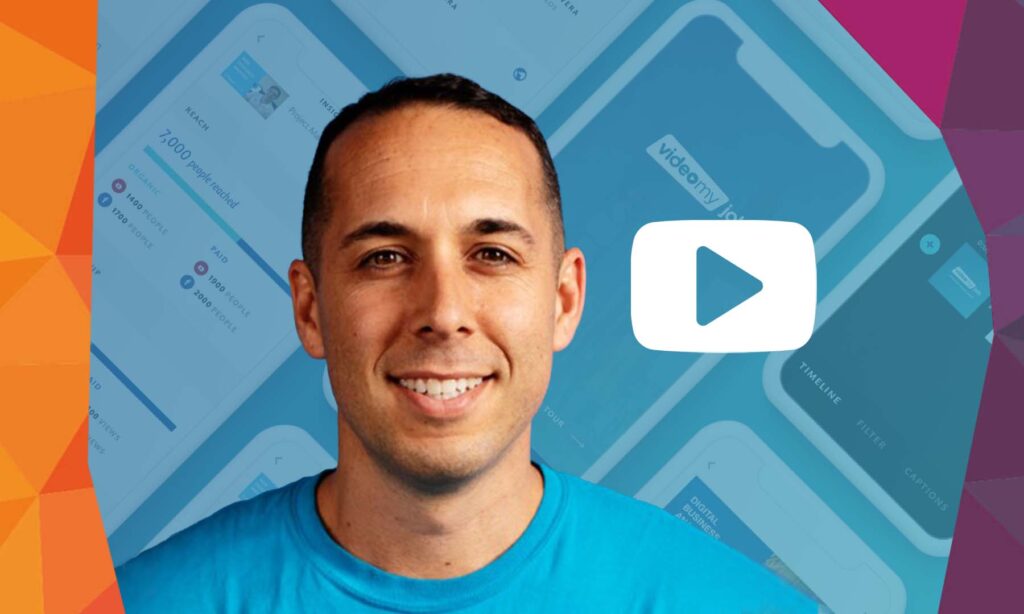 We all know The Buggles' lyrics. And when they were sung in 1978, they couldn't have been truer: video killed the radio star. A mere 43 years later, we may require a recruitment-related adaptation to the former number one hit on 16 different national charts: video ads killed the written ads. With video now accounting for more than 70% of online traffic, and 1200% more likely to be share online than text — the world seems to have spoken.
It's a sentiment that became abundantly clear to Melbourne, Australia-based David Macciocca. For 10 years, Macciocca ran a recruitment boutique, during which he experimented with recruitment videos and video job ads. "I was looking for ways to stand out", Macciocca says. "I saw a sudden increase in the usage of videos in consumer marketing and social media and started experimenting. The first results were incredible. But the speed and the cost of creating quality content was a real barrier."
VideoMyJob
To solve the issue Macciocca ran into in his own work, he founded VideoMyJob in 2014. Built as an enterprise-solution, the service allows companies to quickly create, share and track branded videos. Two years later, the company won prizes as the Best HR Tech Startup at both the HR Tech Fest and the ATC. And in 2018, the service was named runner-up within the Best HR Startup category at Unleash.
'A strong focus on the technology north star'
But as always the case with start-ups: there's things that work, and things that don't. "What worked was the idea that video is more powerful than text", Macciocca says. "That resonated with many early adopters globally, especially in the United States. But we struggled trying to serve two different ICP's (ideal customer profiles), not having access to accurate data and not employing technology people from thriving tech companies."
"We always asked the same question: 'Does this feature we are building make it easy to create a video'."
While every start-ups has its own set of struggles, the majority of feedback was extremely positive, Macciocca notes. "People were really talking about us. And we signed up some awesome companies. What really worked was that we had a strong focus on our technology north star early on. We always asked the same question: 'Does this feature we are building make it easy to create a video'."
'Habits are hard to change'
The success of videos may be undeniable, but Macciocca sees one element that may hold back text job ads. "Habits are hard to change", he says. "And humans love the written word, so I don't think we will eradicate text job ads. But I do think talent teams will look to communicate via video over text during essential moments throughout the acquisition workflow. Whether that's recruitment marketing, onboarding, training, employee stories, social posting or internal communications."
"Some of the feedback we are getting from our clients is that they see significant improvements in the candidate experience […] and the overall ability to make better connections."
Now VideoMyJob is responsible for an output of thousands of videos in over 50 countries every month — with 26% of its videos created for job ads. "Some of the feedback we are getting from our clients is that they see significant improvements in the candidate experience, the ability to amplify their D&I initiatives, branding and the overall ability to make better connections. Those are the business advantages."
'Companies struggle to share their culture and values at scale'
When talking about the goals of VideoMyJob for the future, Macciocca has a clear idea as to where his company can play a role. "I think globally, companies struggle to share their culture and values at scale", he says. "I believe VideoMyJob will solve this problem in the long-run, significantly improving the candidate experience for organisations around the world."
"In 10 years, VideoMyJob will be the number 1 platform for talent teams. We will own the category: 'Video in recruitment marketing and employer branding' worldwide."
If anything, it won't be for a lack of motivation on Macciocca's part. With a strong nucleus of clients based in United States — and a strong take-up of video in the United Kingdom and Europe, the company is continuing to grow its global presence. "In 10 years, VideoMyJob will be the number 1 platform for talent teams", Macciocca says. "We will own the category: 'Video in recruitment marketing and employer branding' worldwide."