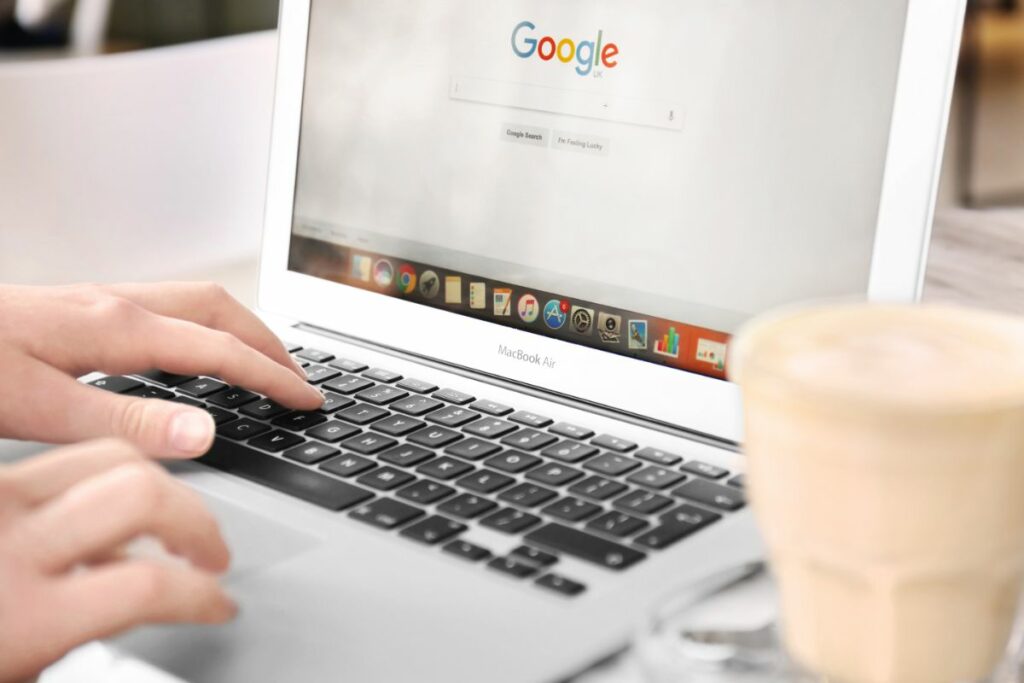 In recent years, Google for Jobs has emerged as a game-changer in the recruitment and job-seeking landscape. For recruitment marketing professionals, Google for Jobs offers an enticing proposition: the promise of high-quality, accessible, and organic job seeker traffic. The method is simple: adhere to specific Google for Jobs rules, optimize job listings with schema, and watch as Google directs candidates to your job postings.
Historically, when a job seeker searched for a position on Google, the search engine displayed a list of links to websites hosting job listings. However, Google for Jobs has significantly evolved from this basic concept. Now, when you search for jobs, it dynamically identifies your location and provides you with job listings, eliminating the need to navigate numerous websites.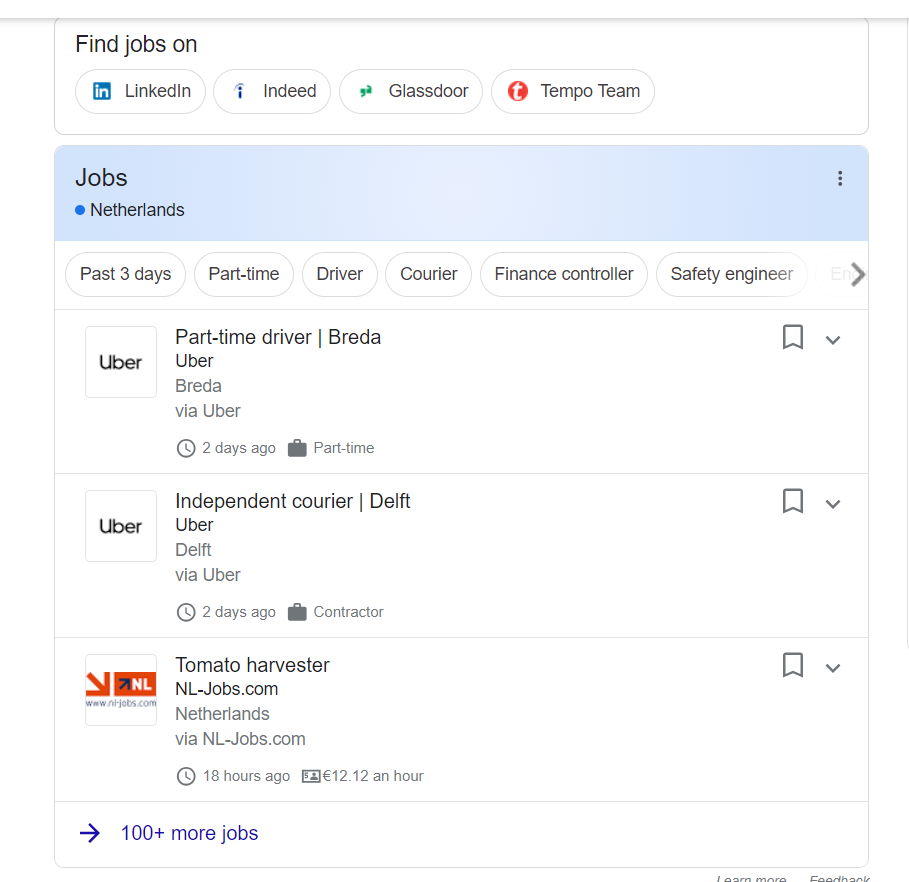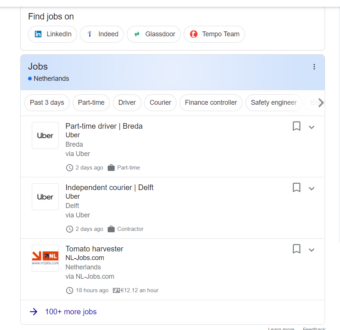 But the algorithm changed even more as job boards and numerous websites continue fighting for a top spot on Google for Jobs.
Company websites struggle for visibility
A critical factor in the success of Google for Jobs (Gfj) is the domain ranking of the websites hosting job listings. Websites with high domain rankings enjoy considerable traffic from Google for Jobs. In this case, technical SEO plays a crucial role in driving traffic.
Now, more job boards have gained visibility compared to company websites, while the basic Idea of Google for Jobs was that direct traffic to company websites would gain because of higher quality of the vacancies. That promise was maybe not that relevant, because data from the talent intelligence platform Giant reveals that active job seekers chose job boards over company websites in their search.
Company websites are very relevant when there is a strong employer brand.
When there is a pre-existing connection between a candidate and the company, it brings qualitative traffic that improves the websites rank on Google for Jobs. Such traffic can come for example from automation, sourcing, recruitment marketing and referrals.
Google for Jobs empowered

Indeed instead of killing Indeed
On the other hand, job boards continue to score better on quantitative traffic and experience higher visibility. Indeed's swift rise to dominance on Google for Jobs was due to its high domain ranking and aggressive approach to refreshing job listings. While other websites often update listings once every 24 hours, Indeed's rapid feed updates kept them prominent.
However, gaining visibility can be exceptionally challenging for newcomers or job boards aggregating job listings from other sources (such as Appcast or Zip Recruiter). They'll need to build a high domain ranking, get their listings indexed before receiving maximum traffic, particularly in the competitive job market.
Less applicants from GfJ for employers with a complex ATS system
There are two key reasons behind the difficulty company websites face in getting indexed on Google for Jobs. First, Google has introduced E-A-T rules (Expertise, Authoritativeness, Trustworthiness) that emphasize content quality. Websites without any content other than job listings often struggle to gain visibility. Second, Google pays close attention to user behaviour. It tracks clicks and knows where users prefer to visit. It is less likely to direct traffic to questionable or untrustworthy websites. As a result, the combination of content quality and user experience can significantly impact a website's performance on Google for Jobs.
Recently, Gfj is placing more preference on user experience over original content. Traditionally, original content, such as corporate career sites, should receive greater weight, but the current reality is quite different. Job boards with superior application flows have come to dominate. Some job boards offer a seamless application process, while many corporate career sites have complicated and time-consuming procedures based on usage of their ATS-s like Succesfactors, Workday, Taleo or Icims.
Moreover, a better experience encourages more job applications and benefits Google for Jobs by attracting more users to its platform. Instead, the recruitment industry's moves to create more complex applicant tracking systems  has been a contentious point in the Google for Jobs ecosystem. The ATS application process has become complex and often frustrating to job seekers. In many cases, applicants find the ATS process on corporate sites time-consuming and challenging, leading them to opt for job boards with more straightforward application flows. As a result, the dominance of job boards continues to grow. For websites to gain better visibility, they need to emphasize ease of use.
This article was inspired by a conversation with on Alexander Chukovski on the Chad & Cheese Podcast
Read More: