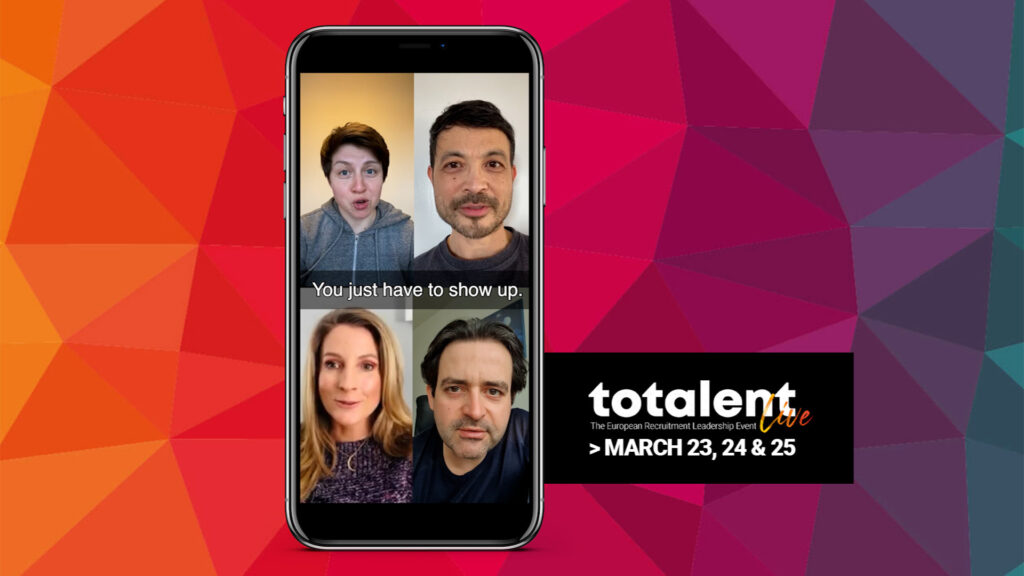 As talent leaders face a variety of difficult micro-tasks, the world around them is changing at the speed of light. New metrics and tools pop up every month or so, while talent acquisition teams continue to operate largely remotely — making for new, everyday challenges that were unthinkable just a year ago. Hosted by Recruiting Brainfood's very own curator Hung Lee, ToTalent Live 2021 will cover three strategic recruitment topics and presenting you with usable and applicable insights.
Being an inclusive recruiter
Vessy Tasheva is one of the premier speakers when it comes to a topic at the forefront of everyone's minds in 2021: diversity recruiting. Based on dozens of 1-on-1 interviews with employees in top tech companies, she will kick off the three-day event by sharing trends and predictions on what candidates and employees look for in a company — particularly with regards to inclusive recruitment. Tasheva: "During this keynote, you will learn the difference between an inclusive leader versus an inclusive recruiter — and what an inclusive recruitment process looks like."
WATCH: A special message from Hung Lee, Vessy Tasheva, Bas van de Haterd and Julie Sowash.
A tale of two futures of work
Internationally renowned speaker, consultant and author Bas van de Haterd will take on a journey on day two of ToTalent Live. He saw two major events occur in 2020 that he predicts will impact the future of work 'for decades to come': the pandemic and the Black Lives Matters movement.
"The great thing is that fair hiring also means better hiring, as you look more to actual talent and fit."
"Remote work will be more common and will have a massive impact on recruitment", he says. "Meanwhile, the call for fair recruitment practices will only grow stronger. But the great thing is that fair hiring also means better hiring, as you look more to actual talent and fit. Organisations that embrace this will flourish in the time to come."
A challenge to talent leaders
On the third and final day of the event — the virtual floor will be Julie Sowash's. As the Executive Director of Disability Solutions, Sowash is a specialist in building and deploying strategies that impact a company's ability to engage and retain job seekers with disabilities. Sowash will delve into what you can tap into as a talent leader to optimise and inspire your teams.
Want to know more?
On March 23rd, 24th and 25th, we're hosting the first ever European Recruitment Leadership Event. Tickets for this virtual event are FREE. Sign up now.