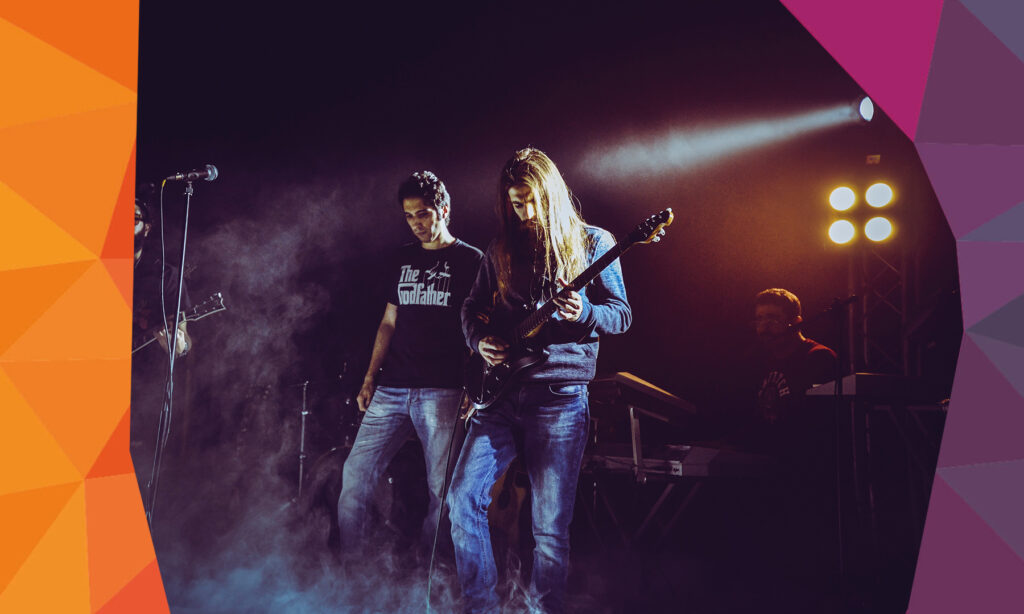 A 2020 survey by Worldwide ERC shows that talent shortages are the top concern for the CEOs around the world. So all eyes are on the hiring manager to fire up referrals, widen the talent pool and push the pipeline. Hiring has changed dramatically in the last decade, particularly on the front end of recruitment. Those seeking jobs now have more options and control than ever before – while hiring the best candidates today means evolving beyond job ads.
Think of recruitment as marketing
"Recruitment marketing is about connecting with an audience in order to attract talent to your organisation. It's what happens before people apply for a job", Imaginasium say. Imaginasium helps companies recruit and retain through employer branding and recruitment marketing strategies. "It is a model many marketers use to track the customer journey from awareness to purchase. But instead of modelling the customer journey, here we're thinking about the candidate journey."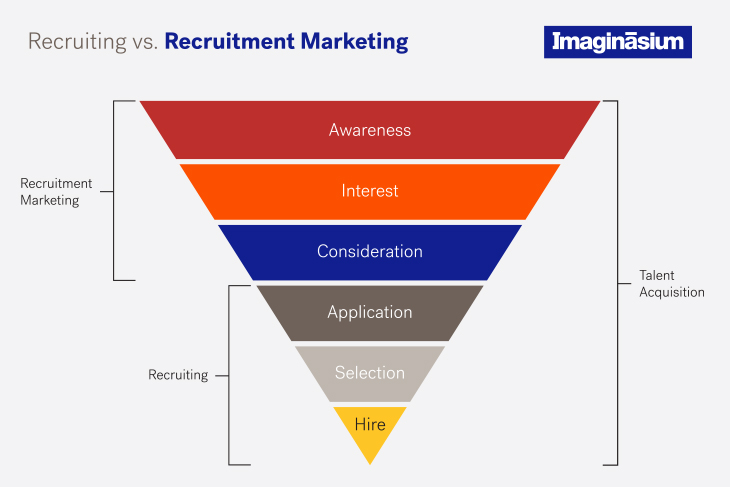 'Recruitment marketing is what happens before people apply for a job.'
The focus in recruitment marketing is on the upper half of the spectrum. Breaking it down, awareness is all about giving people a glimpse into what it would be like working for you. Sharing the culture and giving potential employees insight into what makes you great. After you're on their radar, job seekers tend to want to know more about your organisation. During this phase, they scope out your career page and follow you on social media: out of interest. Finally, they'll consider working for you. They read your job postings and do their bit of research on the internet and within their own network to see what people have to say about your organisation.
Employer branding
Branding is at the heart of every company's message. It plays a huge role with regards to how we think and feel about an organisation. The most attractive candidates always have options, and they will absolutely weigh your brand story in the their decision. "If you want to attract the best brains to your company, tell them a story of why they will find fulfilment working with you."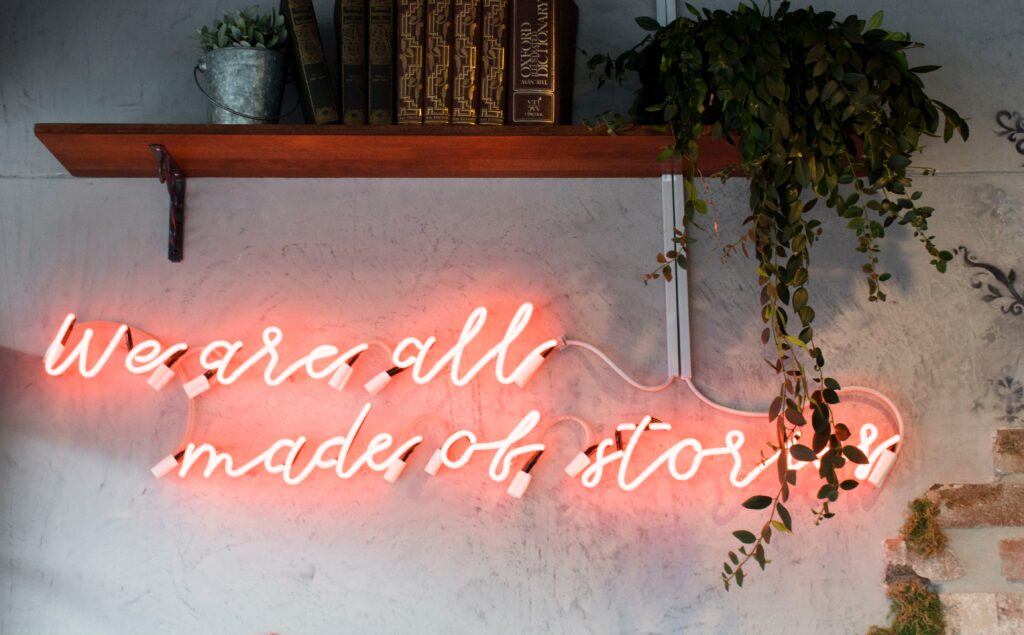 "If you want to attract the best brains to your company, tell them a story of why they will find fulfilment working with you."
To make the employer branding story even more enticing: a strong brand lowers employee turnover too. Employer branding isn't all shine and marketing; it is the real-life culture that keeps people happy and engaged. And if you really want your recruitment marketing to have an impact, you need to be intentional about it. 
'Know who you are and spread the word'
"Once you know who you are, and why your employees love you, it's time to spread the word and get noticed", Imaginasium say. But in order to do this – and do so with any degree of success – you need to build your storytelling skills and connect with people on a real level. At the same time, you need to be judicious and strategic about your marketing channels, and be very diligent about how you execute and measure your plans. Their article lists a total of 16 tips. To give you a bit of a head-start, we'll list five of them:
1. Post meaningful content
Build awareness through online content. Sounds easy enough right? Post to social media and your own blog. Contribute to relevant media and industry news sites. Incorporate employer brand content into your regular marketing calendar. Customers want to do business with good corporate citizens, just as much as job candidates who want to work for them. After you've published the content, stay involved:thank people for posting and sharing. 
2. Share your employee stories
Job seekers are always on the look-out for trustworthy stories that further support their pre-conceptions about a company. They want to see what real people have to say about you, and whether they can see themselves reflected in your workplace. Share employee profiles, success stories and video testimonials. 
3. Encourage resume drops
Offer a way for people to submit their resumes, even if you don't have a job opening for them right now. This lets you know you have people who are seriously interested in working for your organisation, not just landing any available job. At the same time, from a TA point of view, this helps you build up a talent pool. Also: give people a compelling reason to sign up for your jobs newsletter: create ebooks, quizzes or guides in exchange for their e-mail address.
4. Get mobile friendly
Mobile job search is here, and it's here to stay. According to Glassdoor, 58% of mid-career workers search for jobs on their mobile phone. And the numbers skew considerably higher for blue collar jobs. A lot of people are applying via mobile devices, and you don't wan to miss out. Make sure your application experience works just as well on mobile as it does on desktop. Use a platform that allows candidates to upload their resume from Google Drive or Dropbox.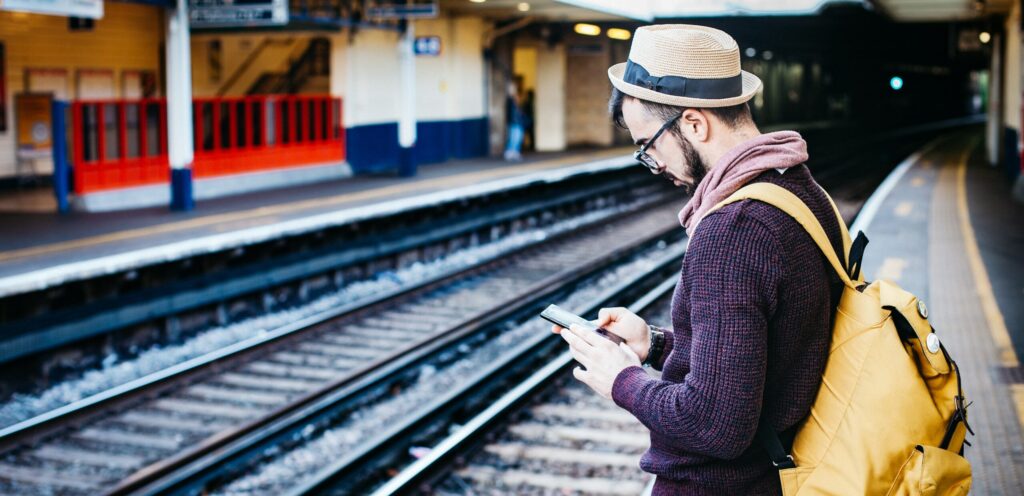 5. Geofence your competitors
While many workers will continue their work from home for at least the foreseeable future, targeting your ideal employees where they work is not such a bad idea, according to Imaginasium. "If you're in need of a speciality skill that's always in short supply, set up geofencing parameters in apps like Snapchat, Google Ads, or Facebook to market to users within a very limited geographic area. In order to entice them to leave their current company, you'll need a very strong employer brand message. Think more emotional appeal (work that makes a difference) rather than pay and benefits."
Above all, be real. "Tell an authentic story about your company culture", Imaginasium say. "No fibs, no fabrications no stretching reality. Figure out what your employees like best about working for you, and then go out and target candidates who want your distinct kind of vibes."