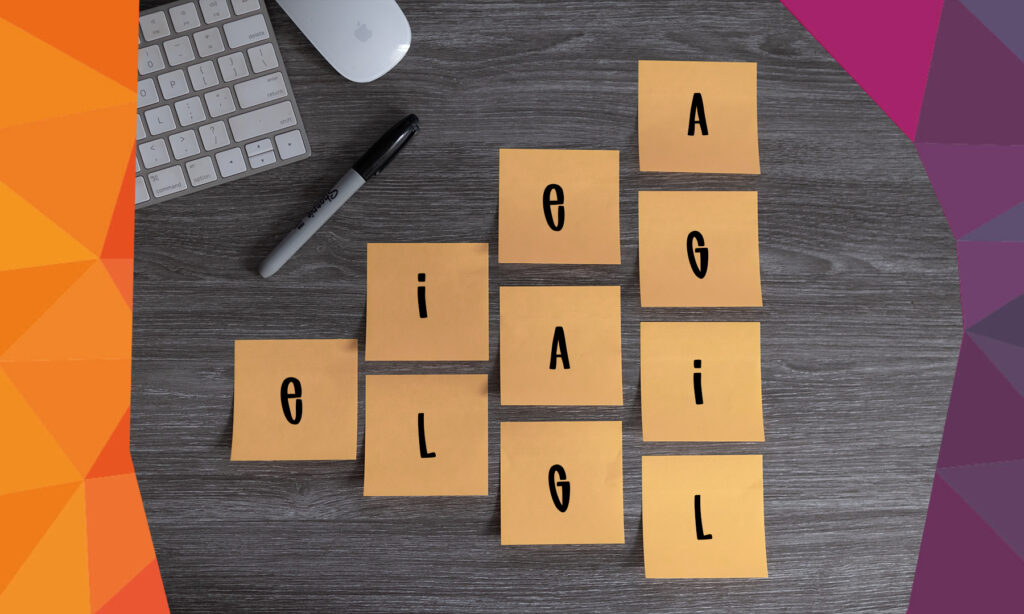 This new year gives us a chance to rethink old methods and embrace new tools and practices. Many teams may have already noticed some struggles with remote working, such as communication gaps, lack of clear vision and goals, or untimely feedback. The Agile methodology focuses on breaking down projects into clear and visible smaller steps so that everyone is aware of their responsibilities and team members can work more effectively, both individually and together.
Setting Goals
Before jumping into a project, it is important to take a close look at the goals you will be working on. Often goals are created at the top level and can get watered down by the time they reach the individual or team level. When defining goals, it is important to link them in a way that adds purpose both individually and company-wide. You don't want to miss out on important departmental objectives by over-cascading goals down from the top. Making team and individual goals a priority leads to more applicable, inspiring, and ambitious goals.
These types of goals inspire improvement in:
Productivity and Performance:

Specific and difficult goals lead to higher performance.

Employee Engagement: Public commitment to a goal increases individual commitment to the goal.
Employee Happiness: Clear and applicable goal setting leads to a clear view of individual contribution which can increase confidence and work satisfaction.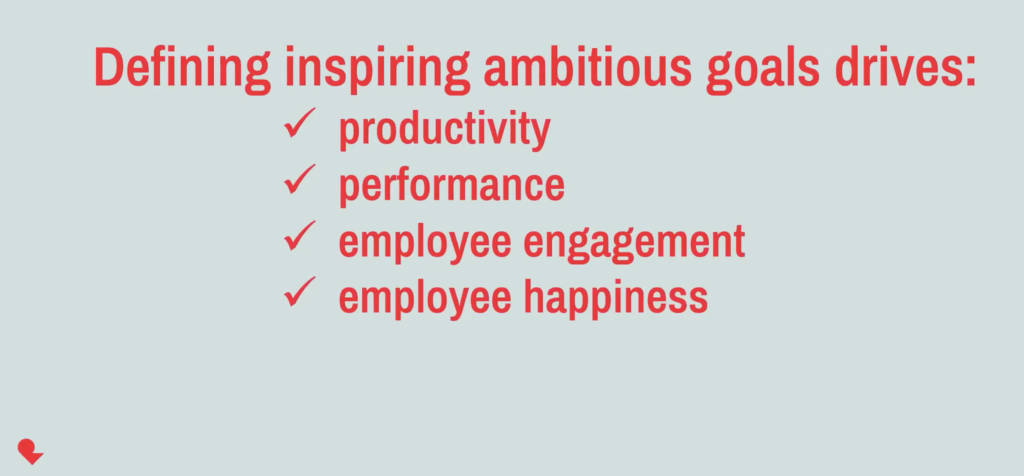 The OKR method
OKR is a methodology for setting goals that pairs well with the Agile action methodology. OKR stands for Objectives and Key Results. The main purpose of OKR is to 'connect organisational objectives to measurable results.' OKR can be best used applied by breaking down larger goals into definable objectives, dividing each objective into measurable key results, and then developing specific initiatives to reach each key result.
The objectives should be clear, inspiring, and give direction.
To get started with OKR the team lists the desired results (objectives), based on departmental and company strategies, and then all the to-do items (key results) necessary to accomplish them. The objectives should be clear, inspiring, and give direction. The key results should be measurable, ambitious, and influenceable. Now that you have determined your objectives and desired key results the tricky part is translating these into action – this is where Agile comes in.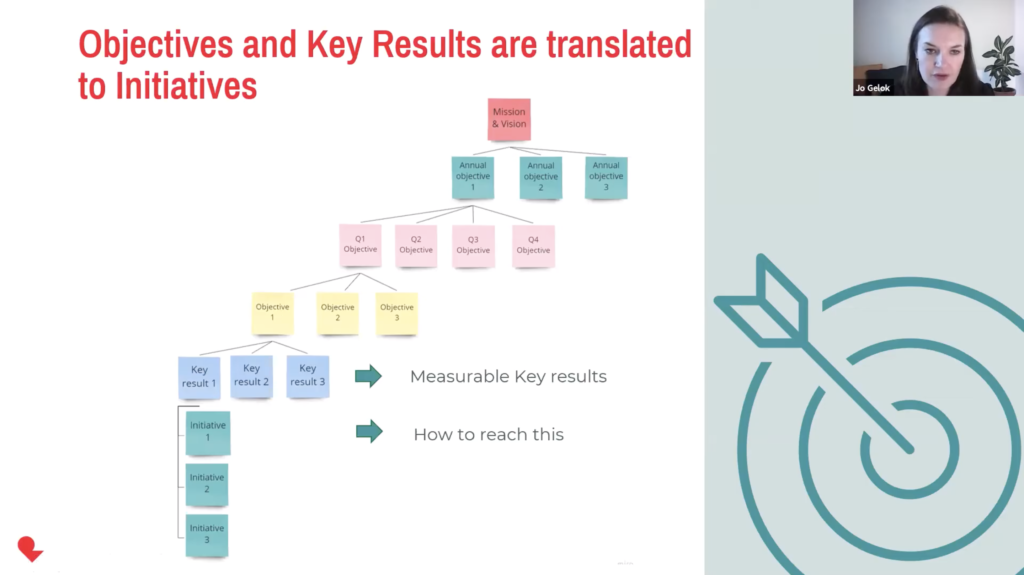 The Agile method
The Agile methodology used to be most commonly used in the IT development field, but its value has since been recognised. It is now becoming more popular and generally used in diverse teams and sectors. Agile helps maintain transparency, clear action points, continuous improvement, and an easily adjustable action plan to help your team more efficiently reach the desired objectives.
The four Agile Key values are:
Individuals & Interactions over Processes & Tools: This implies a personal approach where interaction is encouraged. While typical face to face interaction is less easily attainable while remote working it is definitely still possible to creatively implement this principle while working online.
Working Software over Comprehensive Documentation: This value clearly stems from Agile's early applications in IT, but the principle remains relevant. The idea is to focus on deliverables rather than spending too much valuable time on theory and paperwork. This includes being open to trial and error and accepting marginal improvements as working results.
Customer Collaboration over Contract Negotiation: This goal focuses on 360° feedback between you and your customers, internal or external. This way you can keep contact in real time to learn the requirements, improve your approach, and provide updates and deliverables.
Responding to Change over Following a Plan: Agile is designed to create ….well, agility in your way of working. Instead of learning too late that you have been following a plan that has become outdated, the goal now is to focus on smaller objectives that lead to visible next steps and to be adaptable. Note: This does not mean to have NO plan, it just means to remain flexible.
How to implement an agile approach?
Using the Scrum framework will provide structure to your Agile based project. This framework focuses on dividing the project into fixed periods, called Sprint cycles, and providing something ready to be delivered at the end of each cycle. This focuses the team on delivering incremental value through accomplishing shorter and clearly defined tasks. Throughout the Sprint cycle daily meetings, or stand-ups, take place to help everyone stay on track and in communication with each other.
So where should you start?
It may sound odd, but the best place to start is with the low-hanging fruit, or in other words, with the tasks that will provide the most progress with the least effort. A great way to determine which part of your project to focus on next is with WSJF, Weighted Shortest Job First. You can score and weigh your initiatives on different critical factors (i.e. importance to other parts of the project, deadlines, etc.) in order to determine which initiative comes out on top with WSJF.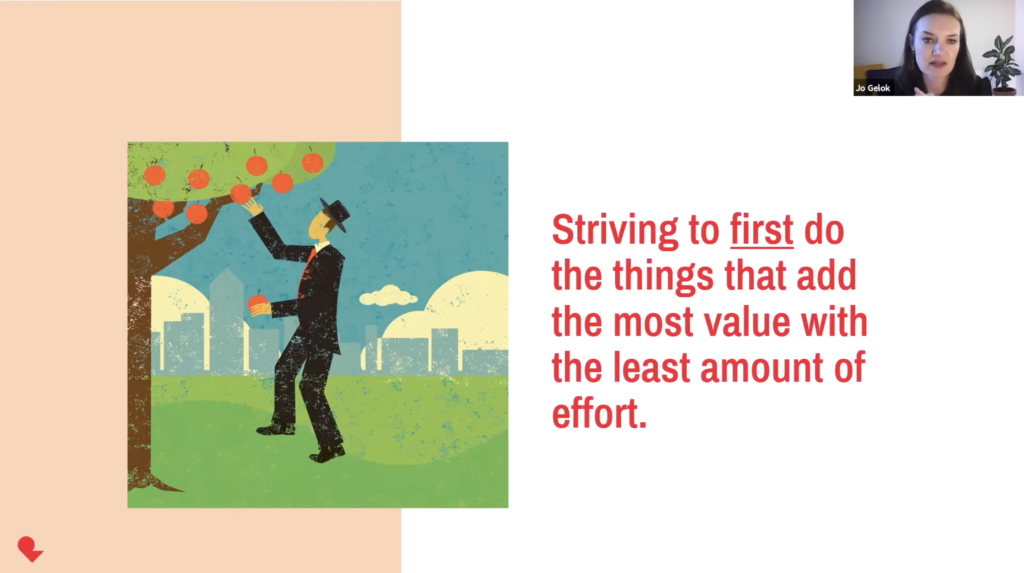 "What makes working in sprints most valuable is that everyone knows what the objective for the sprint is, and how and when to reach the result."
Deciding on the objectives for the Sprint cycle is part of a Sprint planning meeting at the beginning of the cycle. "What makes working in sprints most valuable is that everyone knows what the objective for the sprint is, and how and when to reach the result", according to Gelok. The beauty of this way of working is also that the objectives and responsibilities for each cycle are decided by the team itself, which allows individuals to share their talents effectively and choose to work in the way that best suits them.
Keep communicating
Throughout the Sprint it is important to maintain active communication with team members and stakeholders. This can be accomplished by holding a short daily stand-up. The goal of this meeting is to have a quick check in moment to track progress, take notice of any bumps in the road, and/or ask for help. The meeting should not last longer than 15 minutes. A great way to showcase the progress that has been made is to use a Scrum board (Kanban).
You can develop one of these for your team using tools such Trello or Miro (free online tools). There are many tools that have been developed to support Agile workflows, such as Jira and Asana. Gelok recommends the use of Trello as it is user friendly, especially if you are just getting started, but feel free to review the options to determine which tool will best serve your team's needs.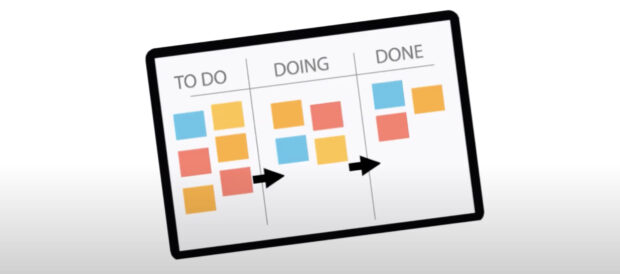 This can be especially important when working with remote teams, as it gives you a chance to keep track of how everyone is doing and instil confidence, especially if working with the process is new for your team.
As you are nearing the end of a Sprint cycle a Demo should take place. This is a chance for you to have direct contact with your stakeholders and review the progress that has been made in this cycle with them. After that you can close off the Sprint and take a moment to check in with your individual team members. This can be especially important when working with remote teams, as it gives you a chance to keep track of how everyone is doing and instil confidence, especially if working with the process is new for your team.
After you have gone through the Sprint cycle it is a rinse and repeat process until you have reached your objectives. The goal is to continuously refine as you go along, and Gelok offered some helpful tips to make the process go more smoothly.
Gelok's 4 tips:
Tip 1: Use 2 week sprint cycles. "It is the perfect amount of time to divide initiatives into bite-size tasks, but still accomplish a lot and provide valuable deliverables", she says. "It'll keep people engaged and provides new and interesting challenges at the right moment. It also creates a good pattern of evaluating and re-evaluating your team's work in a timely fashion."
Tip 2: It will work best if you can implement Agile across multiple teams and throughout your entire company. "This makes it easier to work cross-functionally and to accomplish common goals."
Tip 3: Use a Kanban visual in your stand ups. "You can take the time to literally check things off and move tasks to the next phase in front of your team. This will give everyone a clear view of the project as well as a sense of accomplishment for the tasks that are getting checked off. It provides both clarity and motivation!"
Tip 4: Your Scrum board is also a great tool to use in your Demo with stakeholders since all tasks should be in the "doing" or "done" categories by that point. "This way they will have a clear view of everything your team has worked on and accomplished during that Sprint cycle."
Are you curious about what services Undutchables has to offer? Take a look at their website or contact them.