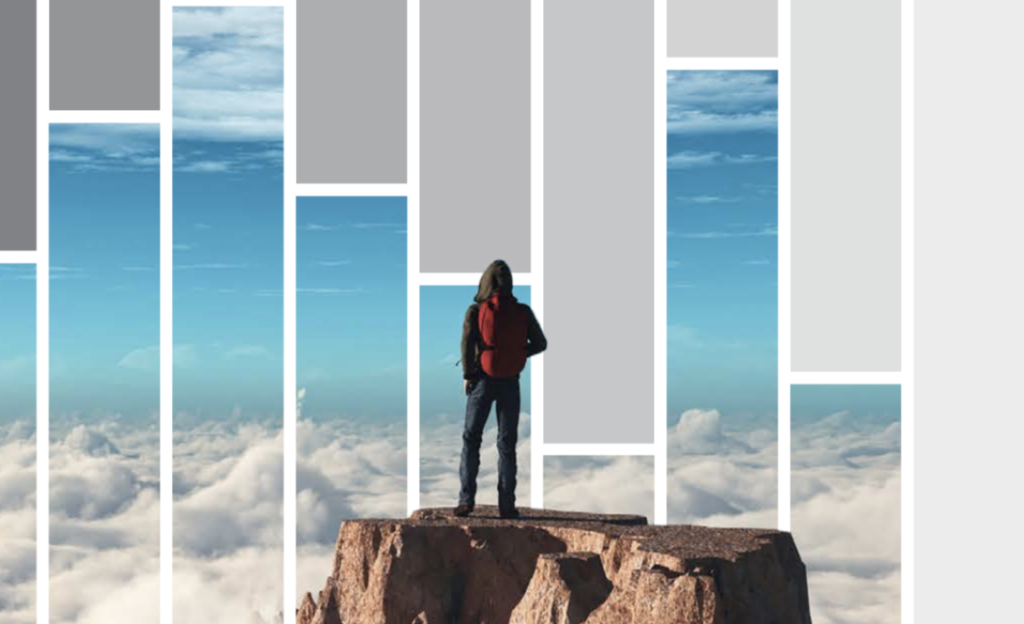 Researchers spent four months of tracking, researching and grading the Fortune 500 in recruitment marketing best practices, based on 13 criteria. Much to their astonishment, very little had changed in the field of Recruitment Marketing during those 5 years. Except for one very notable change. This change concerned some firms that pioneered in defining a new era of talent acquisition and transformation. More specifically, in those 5 years, there have been 5 times as many A's, the companies that the researchers deem as innovators, early adopters, disruptors and change agents.
5 Big Benchmarks
This report identified 5 big benchmarks regarding recruitment marketing, which were the following:
46% of the Fortune 500 are utilizing recruitment marketing with an innovating strategy (A or B). This number has increased by 70% since 2015. What is worth mentioning here is that early adopters aren't slowing down. These A players are up by 13% since 2015.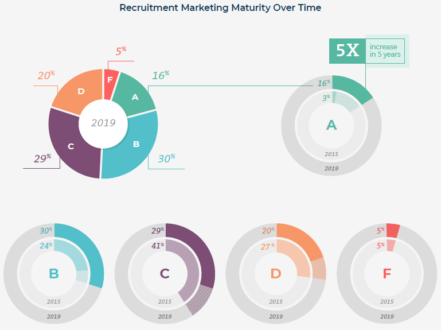 Employee stories, culture content and job description, do not have their fair share in career sites, which are packed mainly with messages generated by employers.

Less than half of career sites include content for key job families and skills and only a fraction enhance job descriptions with images or videos.One possible reason for this is the fact that in order to create a better job exploration experience, someone needs to invest heavily on strategy and technology.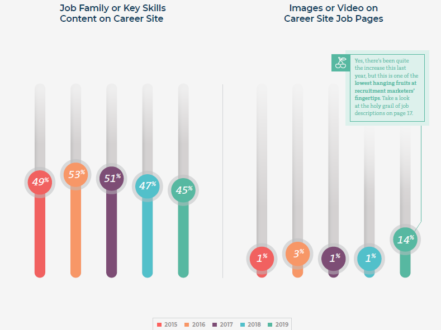 A decade has passed since the launch of the first iPhone by Apple and by now, almost every Fortune 500 career site is mobile-friendly. 

The release by Google of a new ranking algorithm, designed to give a boost to mobile-friendly pages in Google's mobile search results, facilitated this transition to near 100% mobile adoption.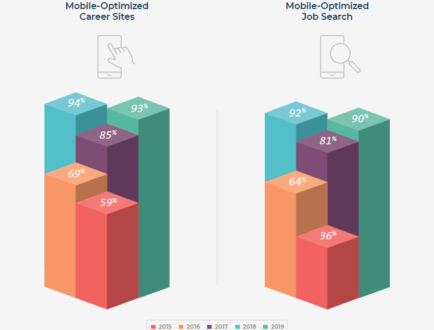 More than half of the Fortune 500 do not provide any way for talent to express interest other than forcing them to apply. This is a very striking finding given the advantages that a candidate nurture strategy provides, which are the following: 

Reduces unqualified applicants in the ATS, increases

 talent leads for future outreach, p

ersonalises communication at scale, e

nables talents to screen in and out before they apply and e

liminates starting from scratch in every req.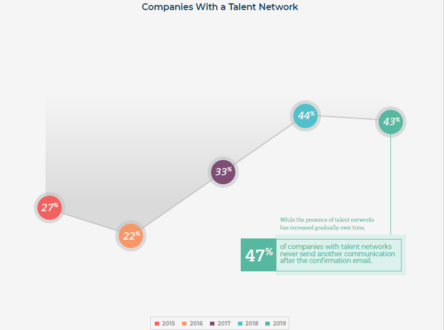 Despite the fact that talent network and CRM adoption is relatively stagnant from last year, a spike in talent network opt-ins, within the application process, has been observed in 2019. This is due to the fact that employers are starting to realise how critical CRMs are in minimizing candidate drop-off, by offering candidates another alternative to remain engaged. Still though, Fortune 500 miss a very interesting opportunity which is offered by automation. More specifically, only 10% of companies with a talent network or job alerts opt in, send automated email reminders to complete the application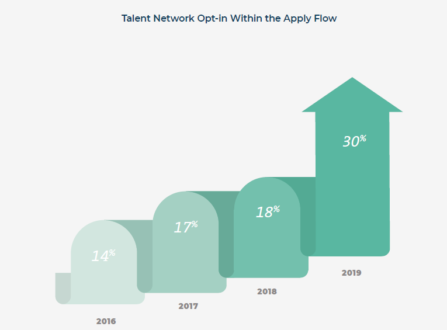 Speculation on Correlation
According to findings of the report, there is a positive correlation between recruitment marketing adoption, average revenue and average Glassdoor ratings. The higher a company's recruitment marketing adoption (A and B), the higher its average revenue and Glassdoor ratings.
Profile of Recruitment Marketing Pioneers
The researchers in this report assigned the grading A to 79 recruitment marketing pioneers in 2019. This number has grown from only 13 back in 2015.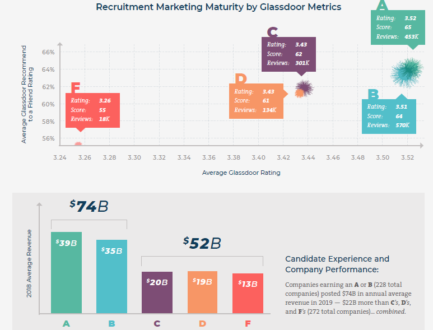 The pioneer of all pioneers #1: CVS Health Corp.
There are several factors that contributed to CVS's reaching the top spot among pioneers in the list. The first is the accumulated skills and experience. The second is the combination of CVS health and Aetna, which established CVS Health as the Nation's Premier health innovation company. Above and beyond all is the company's willingness to attract candidates, whose beliefs are in alignment with their core values of collaboration, innovation, caring, integrity and accountability. They have envisioned a recruitment landscape where the norm will be, one great hire at a time.
What Changed in 2019 for CVS
The main change was an upgrade of the company's recruitment marketing processes and an expansion of the use of its CRM. This change was implemented with the aim to: Stay budget efficient, simplify the hiring process, increase candidate quality, maximise spent on paid media and empower recruiters to nurture with content.
With this change they achieved the following impressive figures:
57% of candidates rate their perception of CVS as an employer, as excellent
67% rate the career site easy to use/apply
78% overall candidate satisfaction ratings
Three are the winning characteristics of CVS's renewed recruitment marketing processes:
CVS has a brand story with a unique voice. It is simple and only articulates the company's mission and values. This makes it easy for CVS to have a consistent message across all recruitment marketing and communication channels.
CVS nurtures at scale by sending a branded newsletter to its full CRM database every other month, which is full of tips and employee spotlights
CVS focuses on strategic roles
Conclusion
This report has certainly succeeded in highlighting the strategies of these "A" players. It is a praise to all these pioneering firms, with the most inspiring finding being, the observation that they all shared the same quality, which was the intention to innovate. Innovators plan and automate for efficiency; they create a brand foundation based on their employees and communicate it with every chance they have; and most importantly, they build a multidisciplinary team that can handle any issue from operations to recruitment marketing, to recruitment enablement, to technology adoption, setting more ambitious goals year after year, thus forging a new path to talent acquisition transformation.
The entire Smashfly report is available here. Stay tuned for part two of our analysis. 
About the author
Dionysios Skandalos is a blogger for ToTalent on actual issues of HR.